Greetings, and welcome to today's Author News 16 April 2021
"Touching", "Intriguing" Trilogy Exposes Realities of Falling in Love with Psychopath. Curious?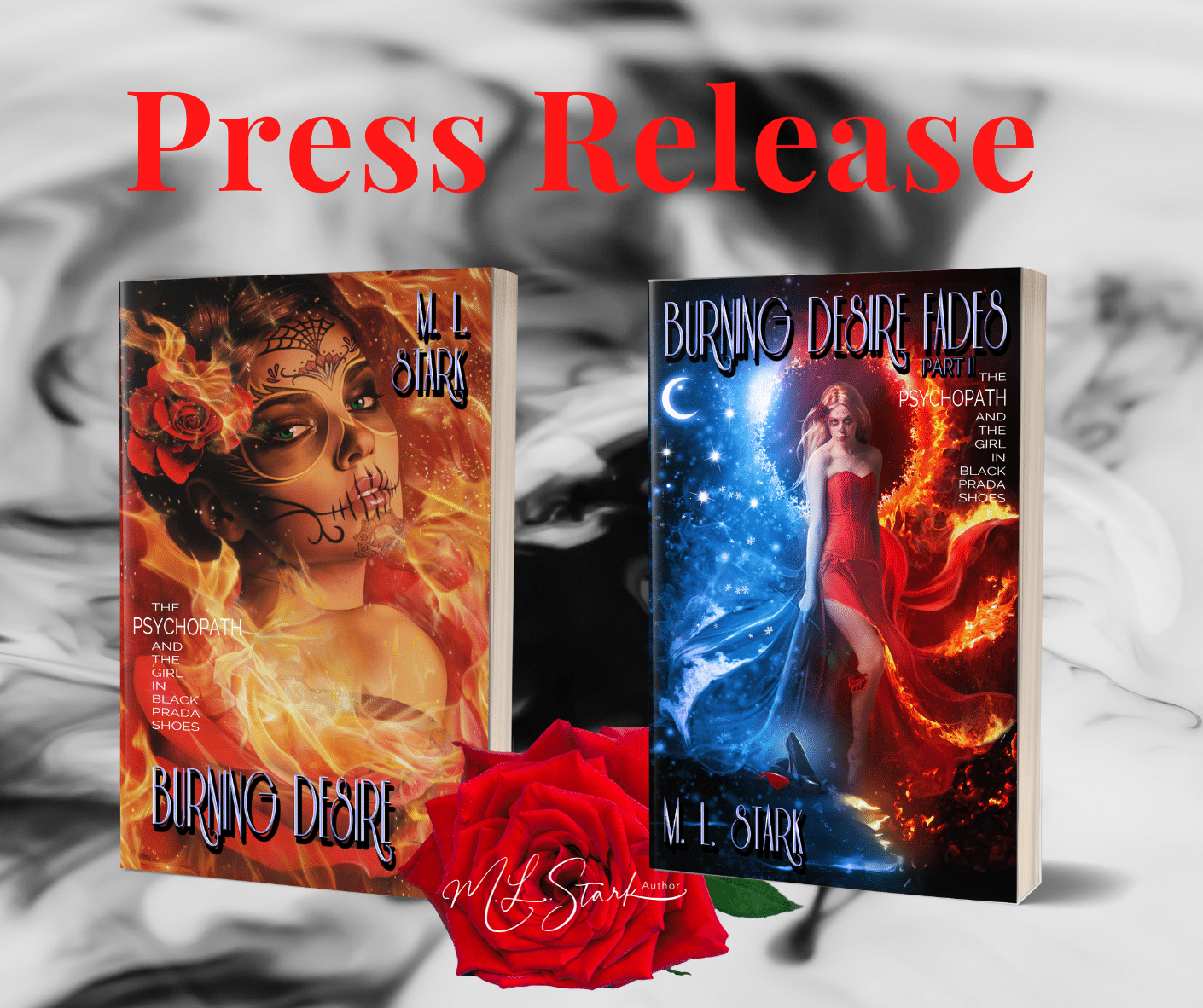 PRESS RELEASE
Burning Desire: "Touching", "Intriguing" Trilogy Exposes Realities of Falling in Love with Psychopath. Curious?
M.L. Stark's 'Burning Desire' embroils readers in the real-life story of Mary, who can't refuse the allure of a new love. However, as she finds out rapidly, Drake is far from the charming prince he appears to be – he's a cold-blooded psychopath. It's a glimpse into this rare life from the victim's perspective, inspiring one critic to write, "Great book and great plot. Well written and captivating. This book is a real page turner and it will rock you to the core on so many levels. The story will shock you. I highly recommend this book.".
Contact: M.L. Stark
Email: author@ML-Stark.com
FOR IMMEDIATE RELEASE
United Kingdom – M.L. Stark won't say where her life story starts and ends in relation to her books, but she will admit that the plot of 'Burning Desire' is based on her own experiences. It's intense to say the least.
The story begins in 2016 in Bournemouth England, backtracking Stark's life to Spain in 2010, where she meets Drake. Life then becomes a globetrot – first to Denmark, then Asia, Balkan and eventually back to England in 2020.
However, the series does a profound service to readers – exposing the truth of what it's like to live and fall in love with a stop-at-nothing, callous psychopath. It's the first series of its kind on the market.
Synopses:
'BURNING DESIRE: The Psychopath and the Girl in Black Prada Shoes Part I' – This story is based on real events about Mary's lifespan living in a petrifying mess, in an unfulfilling marriage with an unfaithful man. Mary begins dating an unnerving sociopath, a self-absorbed, lying person whom throughout his entire life has exploited, stolen, swindled other people and love-scammed many women. It showcases how Doctor Bates, manipulates her, for money and to maintain a sense of power over her vulnerability, which makes it highly authentic and impactful.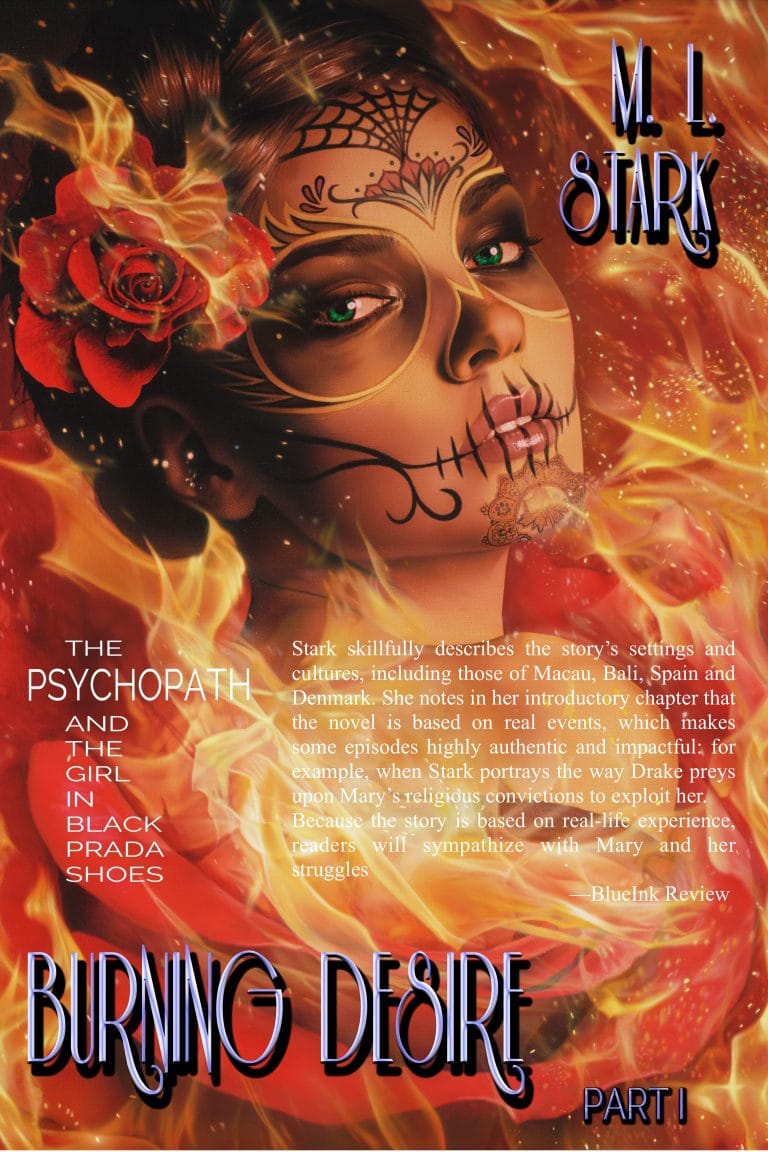 Doctor Bates presents himself as educated, funny, charming and with a public persona of normalcy so Mary could not see what lay behind the dark shade of him. He was inappropriately flirting with her, stepping over the etical line between patient and Doctor. It was too late for Mary to escape.
Drake made his way into Mary's psyche and wielded power and fear to attract her, but little did she know that trusting him was fatal. Something vastly magical happened around him and she begins a passionate love affair with him. Their life seemed blissful on the outside, but behind his malicious plan, it was chilling.
Trusting him with her fragile life, she doesn't see he is a Dr Jekyll and Mr Hyde type, consuming her into his dark, shady terror of promises of a better and happier life. His manipulative behaviour and scams, ends disastrous and Mary becomes a character in his weird performance of his imaginary disturbing life as he sinks into his mania of deceives and lies, while the romance takes them around the globe. Drake wants Mary to invest in different conning business concepts, promising her they will become rich. How does she figure out what she can expect from him? Her life was never the same, but she learned from his evilness.
This is a part one of the Burning Desire trilogy. It will obsess you.
'BURNING DESIRE FADES: The Psychopath and the Girl in Black Prada Shoes' – Part 2 presents the continuation of the maliciously agenda of Doctor Bates and will leave you in a trance of shock with its vigorous narrative. A moment ago, it seemed, it was yesterday full of happiness. Tomorrow it is a matter of survival for Mary as her life is on the brink of insanity to her Knight in Shining Armor.
As she meets Drake again she becomes a slave in the madness of love. Before Mary notice the dangerous life, she gets deeply trapped in Drake's dodgy mesh, but it's too late for her to escape. Fraud, lies, dominance, torment, and the complexity of an abusive relationship evolve, and will unexpectedly be a new part of Mary's life. Drake's sinister betrayal sneaks slowly in as he lures Mary like a ravenous wolf in sheep's clothing. On the outside, it seems Drake is loving and has a high IQ, above normal. On the inside, he is a devious psychopath.
The story will drastically unfold to a complexity of a love drama, crime, fraud, and Drake's delusions of grandeur. At a secluded area outside Hong Kong, the mafia attempt to kill Drake. We will follow the two sweethearts in how they try to escape from the difficulties with the Asian Mafia. Not only once, but several times the two lovebirds are on the run in the shadowy darkness of the night, fleeing as two shifty thieves. Mary will experience love, hatred, and deception; however, will she continue to be Drake's victim in his mystiques and hefty deceptions he gets during the nights?
"The story is somewhat chilling, but it's entirely based on reality," explains the author. "Before I experienced it, I had no idea how psychopaths operated, and exactly how they wore down and destroyed the lives of their victims. After going through it myself, I entered this dark world. So much so that I wanted to share it with the world.
Continuing, 'It's a tough read, but a vitally important one. It will shock and uplift readers, sometimes for the wrong reasons. However, I believe everyone will turn the last page with greater empathy for those around them, especially for victims of abuse who are trapped. They rely on you. You need to help them."
Reviews have been extremely positive. Somya writes, "The story has been so emotionally and effectively penned down, you will feel pity for Mary. I really felt very connected to her, I was feeling her pain. The story depicts how a single decision can have leave such an impact in one's life. This was eye-opening, inspiring read."
Lorraine adds, "I enjoyed the storyline and couldn't believe how manipulated and gullible the victim was, but totally understood how this could easily happen in this situation of trust. I wanted to read more to find out what happened next."
Volumes one and two are available now.
Volume one: https://amzn.to/3uB3VpP
Volume two: https://amzn.to/3dD1hZK.
About the Author:
My name is M. L. Stark, and I wrote the "Burning Desire" series based on experiences from my personal life.
For the past decades, I wanted to write about my life, from being born to becoming an adult woman. I was married for over 20 years, have 4 children, got divorced and met a new man that mentally abused me.
In a flurry of lust mistaken for love I fell victim in my chase for affection and, all bets on a safe, happy life are off. While dating a sociopath, who had swindled others throughout his entire life, I sacrificed my livelihood for this toxic adventure, leaving my husband and children behind and putting my life on the line for a future that eventually catches up to me.
I helped abandoned animals and supported children's causes if needed as it gave me optimistic values in life.
In 2014, I began to research sociopathic behavior and along with my first-hand experience dating a sociopathic man, I reflected on that entire experience to get control over my distraught life again. I wanted to shed light on psychological abuse and increase awareness of the blindness in adoration and the fake love scammers and sociopaths use to mentally abuse others. Living with a narcissist is more than difficult to get through.
In 2016 I moved to Bournemouth, United Kingdom and got the courage to write some of my life experience of the double-edged sword of love. I'm sure readers will find the line between love and manipulation is anything but clear-cut. I am hoping to connect with people and deter them from facing a toxic relationship in their lives by sharing my own real-life events, having in mind that I've achieved the impossible; to write books about being a surviving victim.
In 2020 I published Part 1 & 2 of the "Burning Desire trilogy: The Psychopath and the Girl in Black Prada Shoes."