More to come!
---
The continuation of the malicious agenda
Part 2 presents the continuation of the malicious agenda of Doctor Bates' plan with Mary. It will leave you in a trance of shock with its vigorous narrative.
A moment ago, it seemed, it was yesterday full of happiness. Tomorrow it is a matter of survival for Mary, as her life is on the brink of insanity to her Knight in Shining Armour. Mary unwillingly gets involved in Drake's dreading mafia drama in Hong Kong. Despite his madness in life, she will first experience a magical fairy tale with him in Taiwan. But before she notices the dangerous life, she gets deeply trapped in Drake's dodgy mesh. Dazzled, she becomes a slave in the madness of love where she slowly will experience his love and deception when they next flee to the Philippines. Is it too late for her to escape?
Loving him was all Mary ever had, and as the story grows, she gets more isolated. A typical sign of a sociopathic behaviour from Drake, which he uses to keep his prey away from family or friends who eventually can threaten his mean agenda towards Mary.
The story gives plenty of impressions of deep heartfelt thoughts, unconditional love and excruciating feelings where M. L. Stark takes it forward with her expression of how Drake traps Mary in his snare. And how difficult it is to get out of the abusive relationship, as love blinds Mary, and she doesn't see the many danger signs.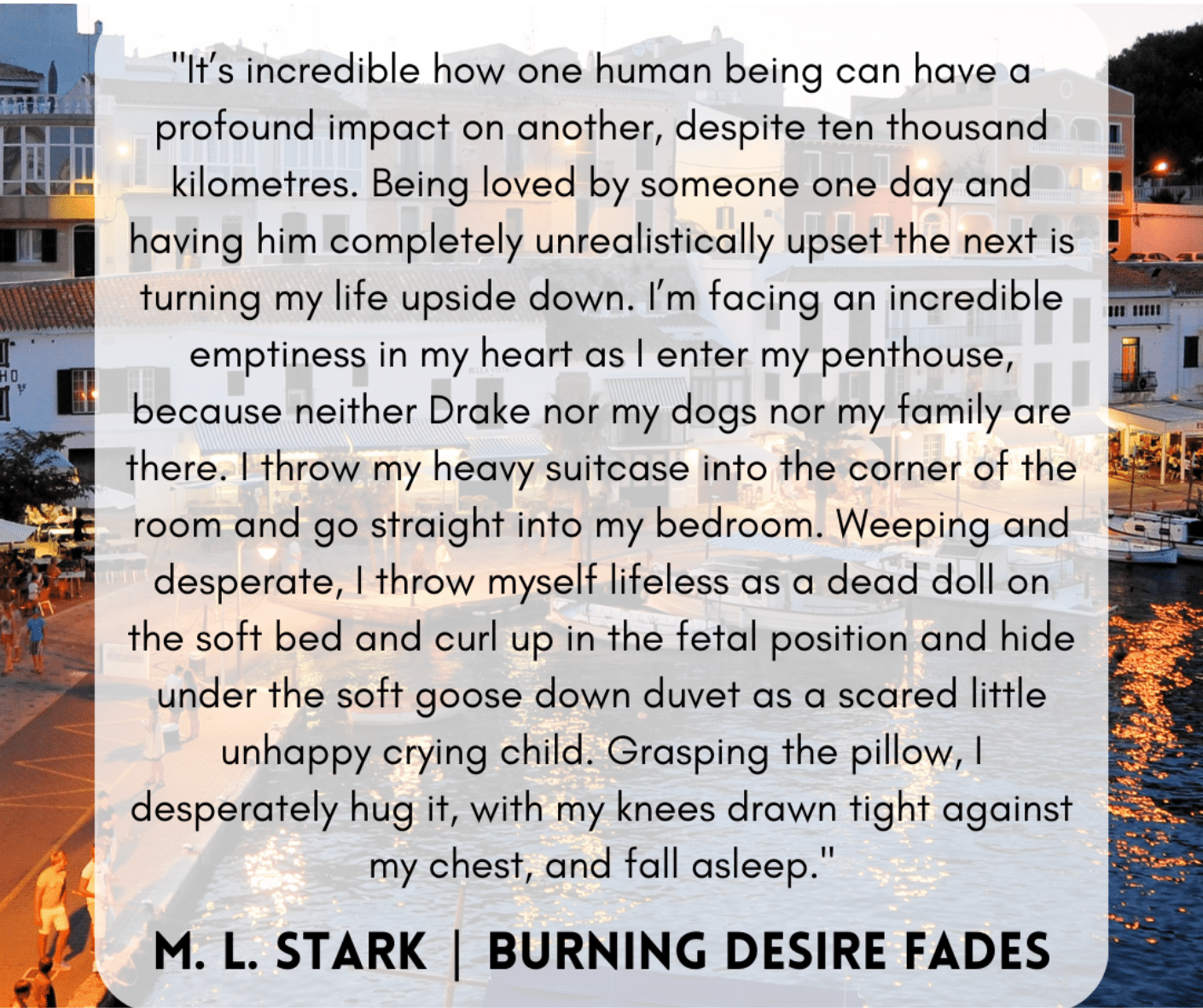 ---

A sexy teaser.
In my curiosity I found the experience simultaneously distressing and thrilling. The distressing half of it resulted in nervousness and sweating all over my body. The thrilling half of it produced a heartbeat I could feel in the pads of my thumbs. Of some reason I just saw him as another bloke, stepping into my life, trying to catch me.
He'd finished his glass of red wine while glancing eagerly at me and his restless eyes took a sharp look at me from top to toe, as I got up, excusing myself; 'I need to go to the restroom. Do you know where it is?'
'It's straight ahead and to the left,' he said, and I could feel his greedy blue Tiger eyes watching me.